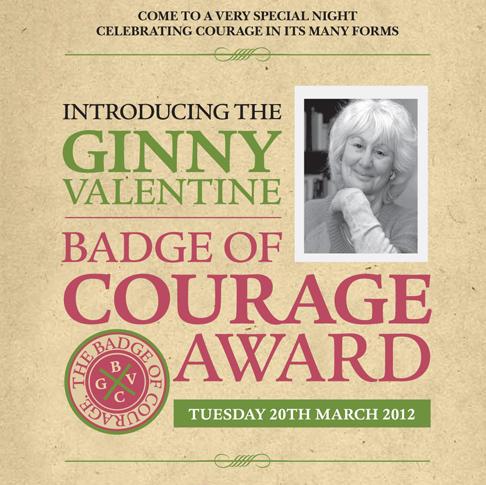 In March 2012 the RLF hosted their most courageous Event yet. In celebration of bravery throughout the market research industry, a series of awards were given to those who demonstrated the sheer guts and will to battle on in the face of criticism and steadfast opposition. The Ginny Valentine Badge of Courage awards took place with a live panel of expert judges (all researchers or clients), who explained their reasons for honouring those courageous individuals.
In these inaugural awards, we heard stories of researchers threatened with violence, those who gave up everything they had for what they believe in, and even a researcher armed only with a Big Sofa! We're sure Ginny would be proud of those awarded the badge, and we hope that those there on the night felt proud too. With our ultimate goal of research liberation, it was only right that we should stop for a moment and celebrate those brave few who can show us how it's really done.
The Ginny Valentine Badge of Courage Awards will return in early 2013, where more people will have their bravery recognised, and their courage honoured.
2012 Badge Holders in alphabetical order:
Betty Adamou (Nominated by Ray Pointer)
Awarded for Entrepreneurial Spirit
Ana Alvarez (Nominated by Fiona Blades)
Awarded for Breaking Away from the Roster
Tracey Follows (Nominated by Kris Flemington)
Awarded for Breaking the Pattern
Kirstie Godwin-Day (Nominated by Pauline Williams)
Awarded for Risks Around Re-Engineering
Rafiq Kakar & The ORCA Team (Nominated by Anna Alu & ESOMAR)
Awarded for Raw Bravery
Janu Lakshmanan (Nominated by Susan Griffin)
Awarded for Breaking the Pattern
Rosie Lidington (Nominated by Simon Lidington)
Awarded for Research Innovation
Mediacom Real World Insight Team (Nominated by Claire McAlpine)
Awarded for Persistence in Continuing to Push Boundaries with a Difficult Brief
Alison White (Nominated by Face Facts Research)
Awarded for Sheer Bloodymindedness
| | |
| --- | --- |
| | Click here to watch highlights of the event on our YouTube Channel |
Ginny's son Phil Alexander and Event Organiser Fiona Blades

The 9 Badge of
Courage Awards

The Expert Judging Panel, from left to right: Julie Davey, Magnus Willis, Charlie Richards, Rosemary Hadden, Danny Russell

Betty Adamou (L) & Alison White (R) with their awards

Ginny would have been proud of those awarded the badge
| | |
| --- | --- |
| | Click here to watch highlights of the event on our YouTube Channel |