The 3rd year of the Ginny Valentine bravery awards
took place on June 16th at the Insight and Innovation Exchange Atlanta - Iiex North America. After two successful awards rounds, the Ginny Valentine Badge of Courage has gone global in the search for bravery.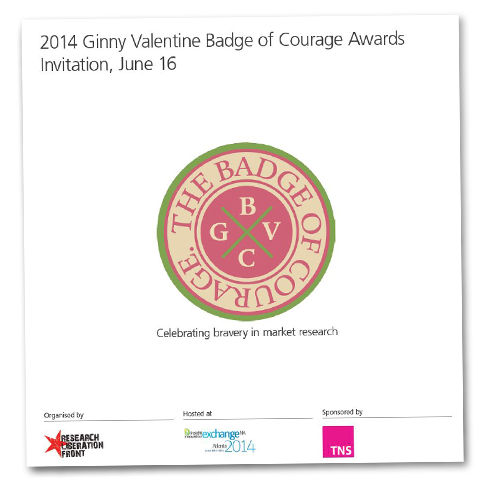 We're excited to announce the winners of the 3rd Ginny Valentine Badge of Courage Awards, held this year in Atlanta.
Attendees honored Ginny's courage and persistence in the Club Room at the Georgia Tech conference centre on June 16th sponsored by TNS. Over 50 guests from the Iiex North America event came together as an exuberant crowd to celebrate our award winners this year.

Your 2014 Ginny Valentine Badge of Courage award holders are:
Dave Birch, Intellection (UK), for Disrupting the industry with the development of machine learning for analysing research
Jackie Braggs, Hutchison 3G mobile (UK), for supporting brave creative work
Steve Cohen In4mation Insights (USA), for taking an academic methodology and giving it commercial credence
Catalina (CO) for courage in the face of adversity. Catalina was attacked while she was interviewing in a Medellin barrio.
She represents all researchers whose work carries an element of personal risk
Will Leach, Triggerpoint (USA), for going against the grain in his championing of Behavioural Economics
Marita Schimpel of Myanmar Survey Research (MY), for pioneering research training in one of the world's youngest marketplaces
Chuck Vila, Campbell Soups (US), for his use of technology to reduce costs and fund innovation
These winners are as inspiring to us as those of the last 2 years. And they cover the breadth of the research industry: including clients innovating their research procedures to make budgets go further or support more edgy creative work. Suppliers pioneering new methodologies or training to ensure that research standards rise. And once again we have an example of personal bravery reminding us of the daily risks that researchers can face while doing their work. For the first time the nominees and winners come from 4 continents.
The Research Liberation Front thanks our distinguished judging panel for their time, and their dedication to recognizing bravery in research: Catherine Wills (Delta Air Lines), Ana Alvarez (PepsiCo Brazil), Alison White (Face Facts Research), Betty Adamout (Research through gaming).
We'd like to thank TNS who came in as our award celebration sponsor. And the teams at Greenbook and KL Communications for their support in organising the awards this year.