Where in the world is the Research Liberation Front?
Find us next at the Insight and Innovation Exchange in Philadelphia. After two successful awards rounds, the Ginny Valentine Badge of Courage is broadening the search for bravery, and partnering with IIeX to go global. Get inspired with us in Philadelphia, and check in for our next awards ceremony at IIeX EMEA in Fall 2013.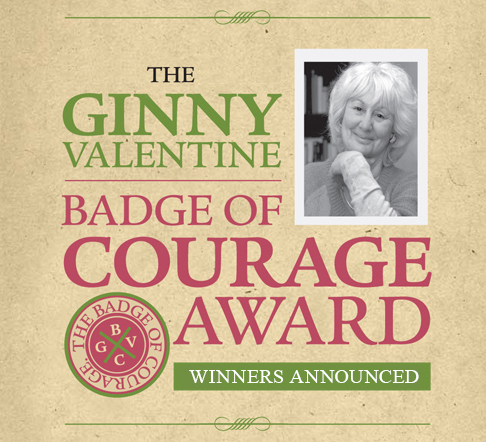 Greetings fellow revolutionaries! We're excited to announce the winners of the 2nd Ginny Valentine Badge of Courage Awards, held this year in New York.

Attendees honored Ginny's courage and persistence at the GreenBook party launching the GRIT Report, sponsored by Google Consumer Surveys at Hurley's Saloon Bar on March 19th. Over 200 guests embodied the best of the research industry – an intelligent, energetic group excited about challenging and gutsy work.

Your 2013 Ginny Valentine Badge of Courage award holders are:
Kristin Luck, Decipher (US), for Fearlessly Advocating Gender Equality
Stan Sthanunathan, Coca-Cola (US), for Leading by Principle
Batool Batalvi, SB&B Marketing Research (Pakistan and Canada), for Raw Bravery for the Greater Good
Kyle Nel, Lowe's Home Improvement (US), for Taking Action
John Kearon, Brainjuicer (UK), for Waking up the Industry
Manish Makhijani, Unilever (UK), for Grace under Fire
Catalina Meija and Yanhaas, (Colombia), for Giving a Voice to the People
Tom HC Anderson, Anderson Analytics (US), for Networking and Rabble Rousing
Lenny Murphy, GreenBook Blog (US), for Openness and Sharing
These winners inspire us with their dedication and drive: they include clients pushing for more innovative suppliers or taking unpopular stands on research issues; researchers shaking up their industry's culture and received wisdom; and researchers working in dangerous conditions to allow people's voices to be heard. For more information about the winners please see the attached presentation (Powerpoint or PDF)
The Research Liberation Front thanks our distinguished judging panel for their time, and their dedication to recognizing bravery in research: Catherine Moffatt (Diageo), Diane Hessan (Communispace), Alec Maki (Bellomy Research), Jon Puleston (GMI) and Angry MR Client (Agent Provocateur on Twitter).
All images © Copyright 2013 - Nelson Davies - nsdavis@optonline.net
For further news on the evening, check out what other people thought:
Lenny Murphy on the GreenBook Blog: http://www.greenbookblog.org/2013/03/19/announcing-the-winners-of-the-ginny-valentine-badge-of-courage-awards/
Research Live
http://www.research-live.com/news/people/the-2013-ginny-valentine-award-winners-announced/4009443.article
We hope to see you at next year's event.